Here at LittleGuide we spend a lot of time at the playground and can recognize parks that offer a little something extra. Soak up some Vitamin D and have fun outside at one of our favorite spots.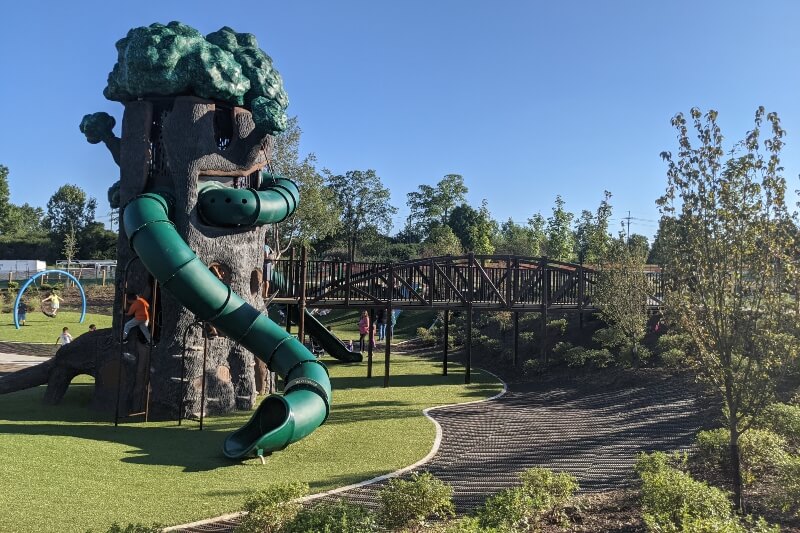 Why we love it: It's massive. Once you enter the playground entrance your kids will have fun climbing the big tree, box sledding down the hill and playing in the stream. The playground is set to get even bigger and includes paved walking trails. The only warning is that parking can be challenge.
---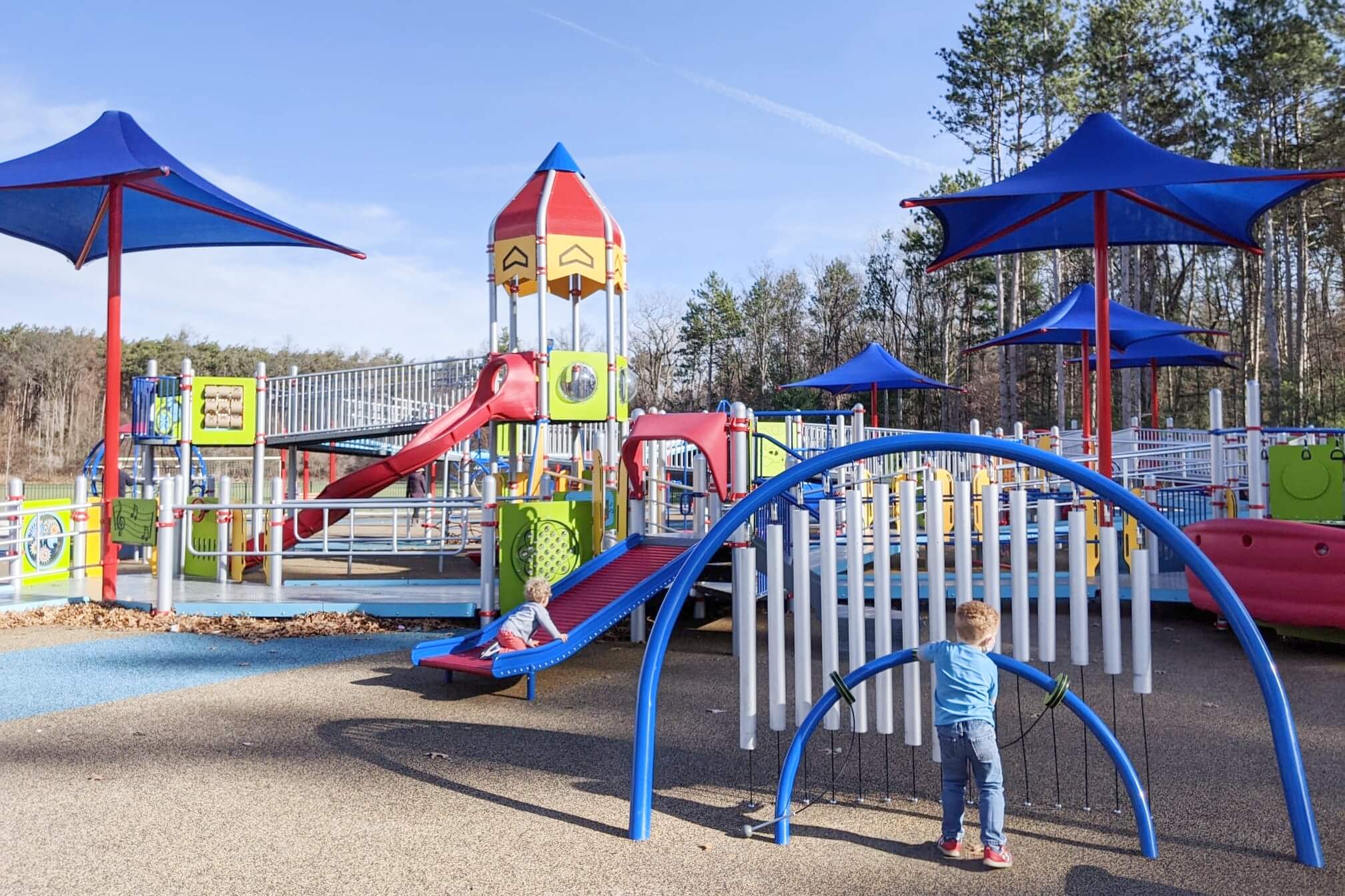 Why we love it: The large all-inclusive playground is fun for EVERYONE! Climb, slide, swing, make music and race through a starry tunnel.
---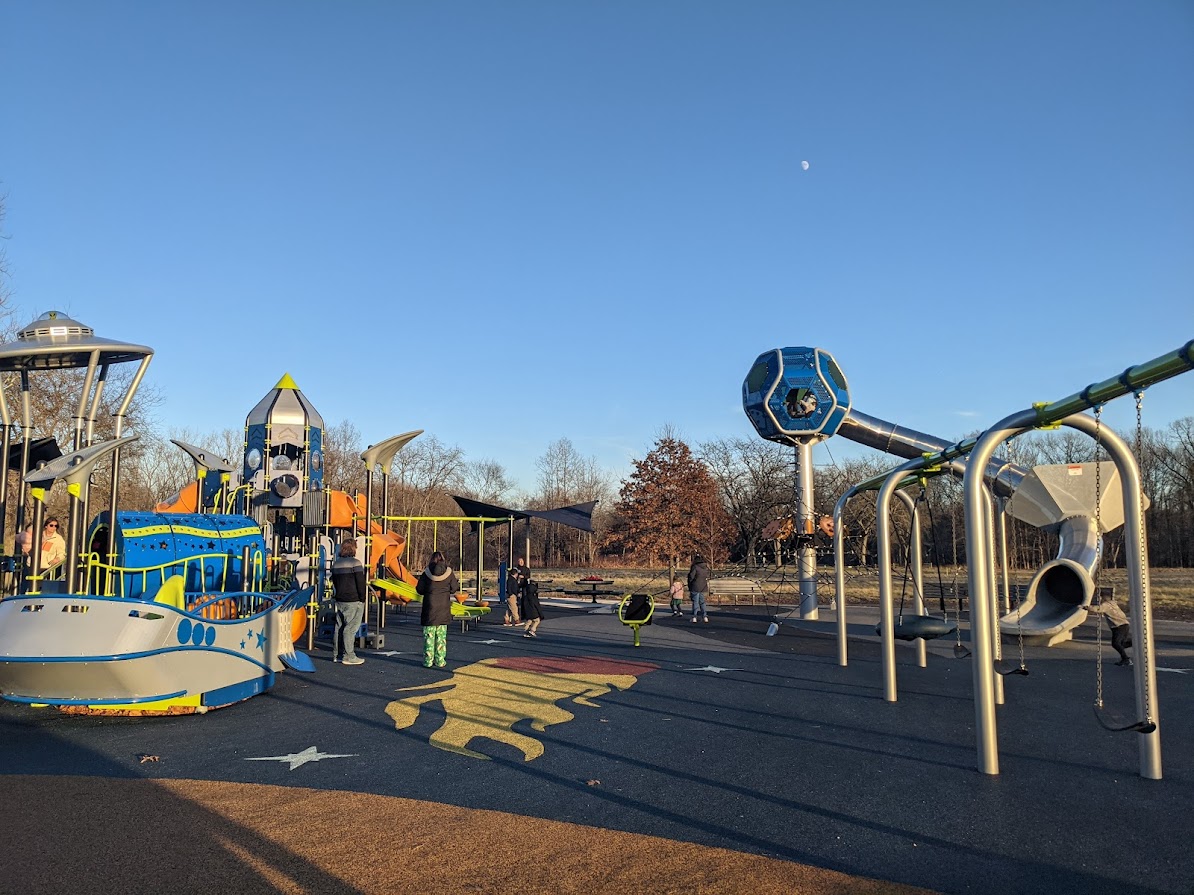 Why we love it: The first thing you'll think of when you see this playground is Paw Patrol. The signature slide requires kids to climb into a tower and while it may give you heart palpitations, they'll LOVE it! Don't worry there's plenty of activities for kids of all ages. This is at the Metropark so a day or annual pass is required but you can use your library card (in advance) to get a free day pass through the Michigan Activity Program.
---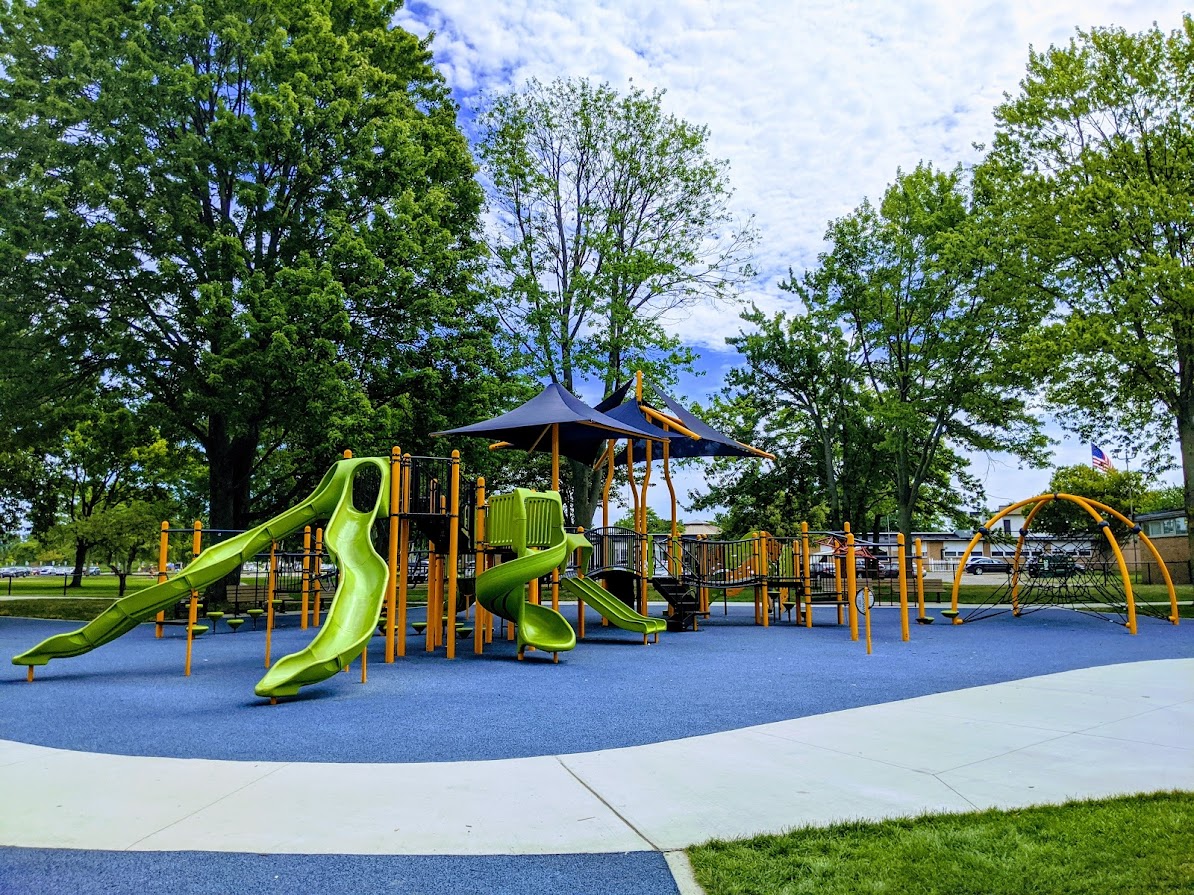 Why we love it: Another Metropark playground, Lake St. Clair Metropark is large and fun any time of the year but when you go during the summer months you can also enjoy the beach, pool and splash pad!
---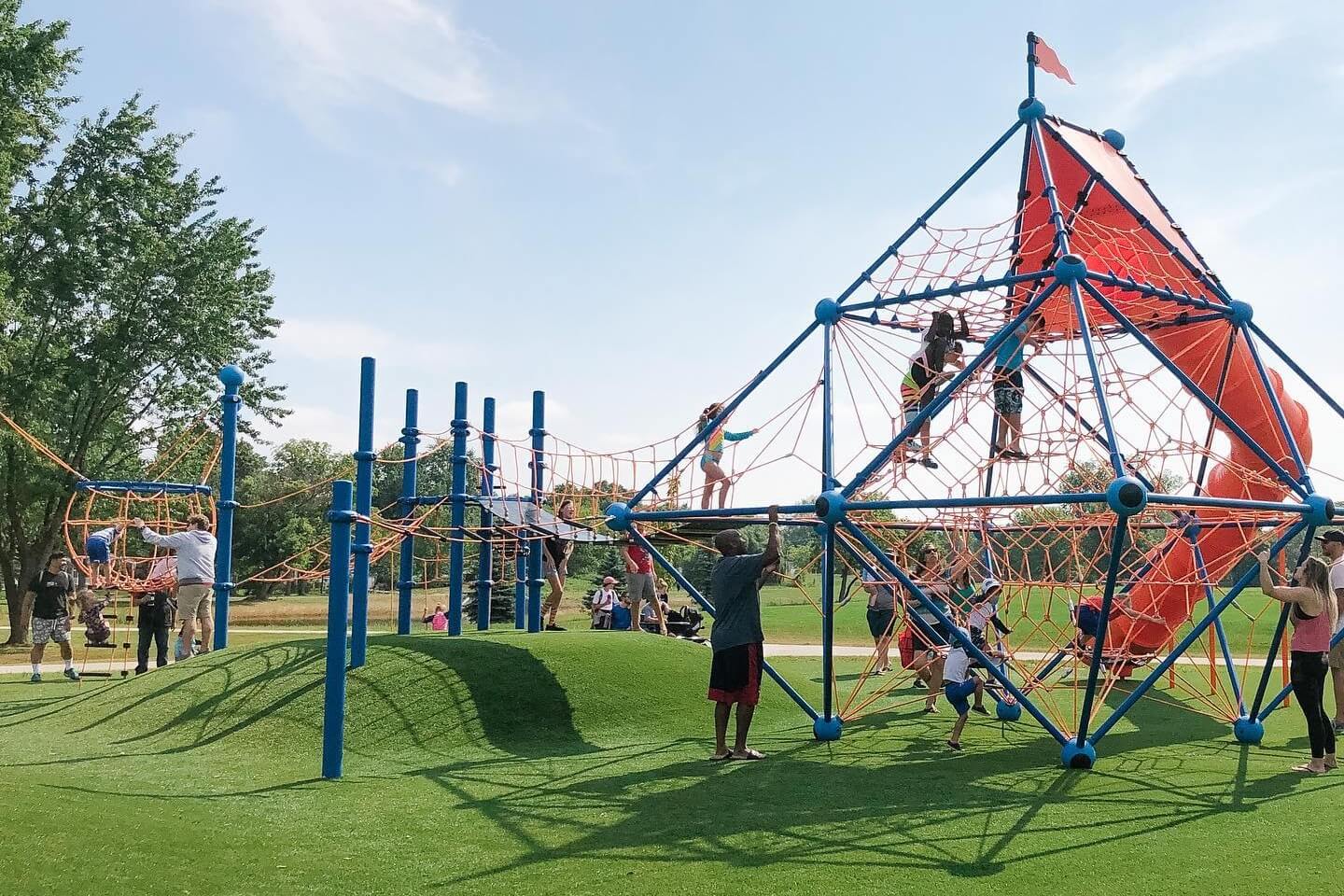 Why we love it: If you have a kid who loves to climb, take them to Normandy Oaks. Designed for more daring kids, it meets the challenge. There's also a free splash pad during summer months.
---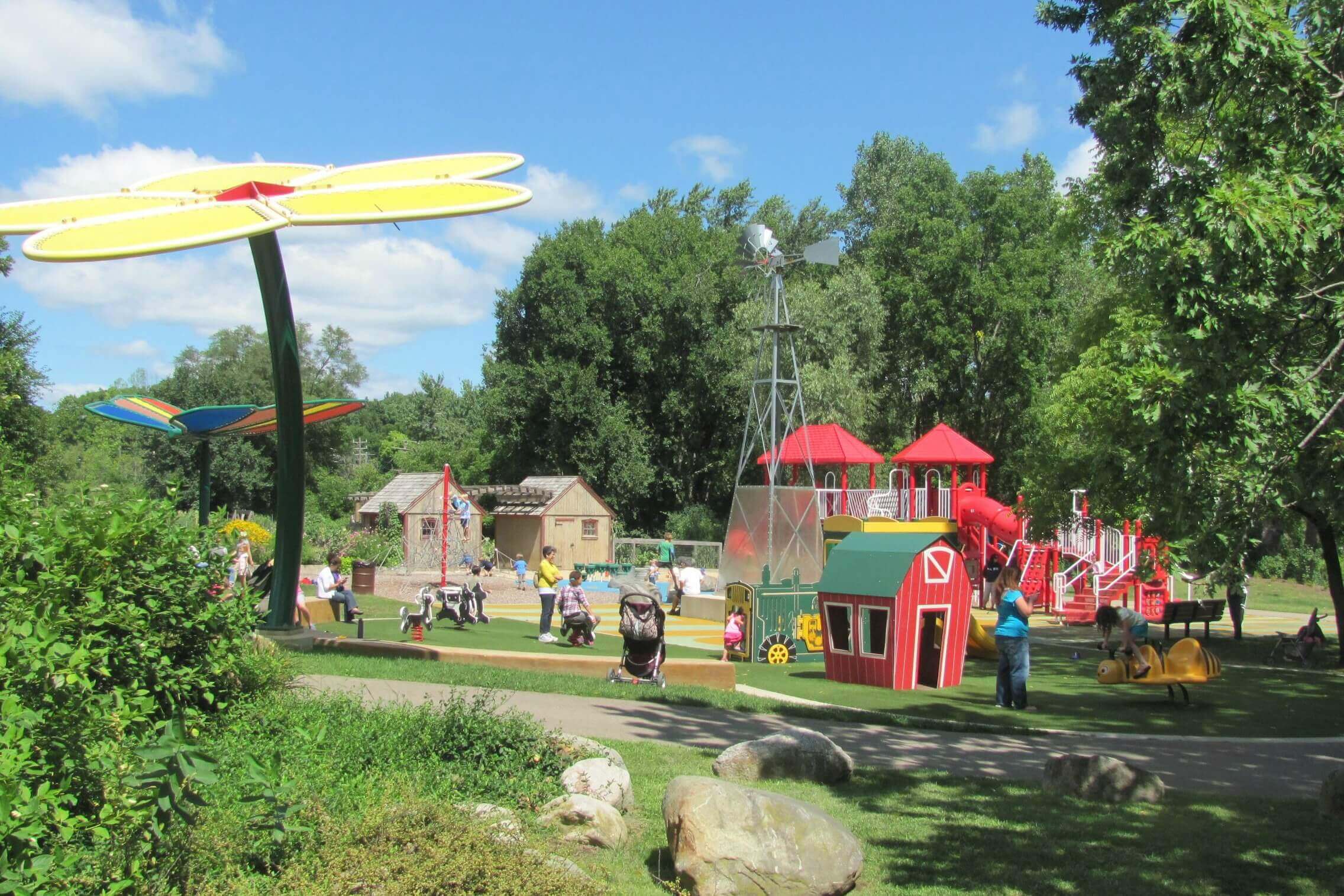 Why we love it: County Farm Park feels like wonderland for farm lovers and gardeners. The farm themed playground is exciting for kids, there is a Children's Garden next to the larger community garden and miles of walking trails to explore.
---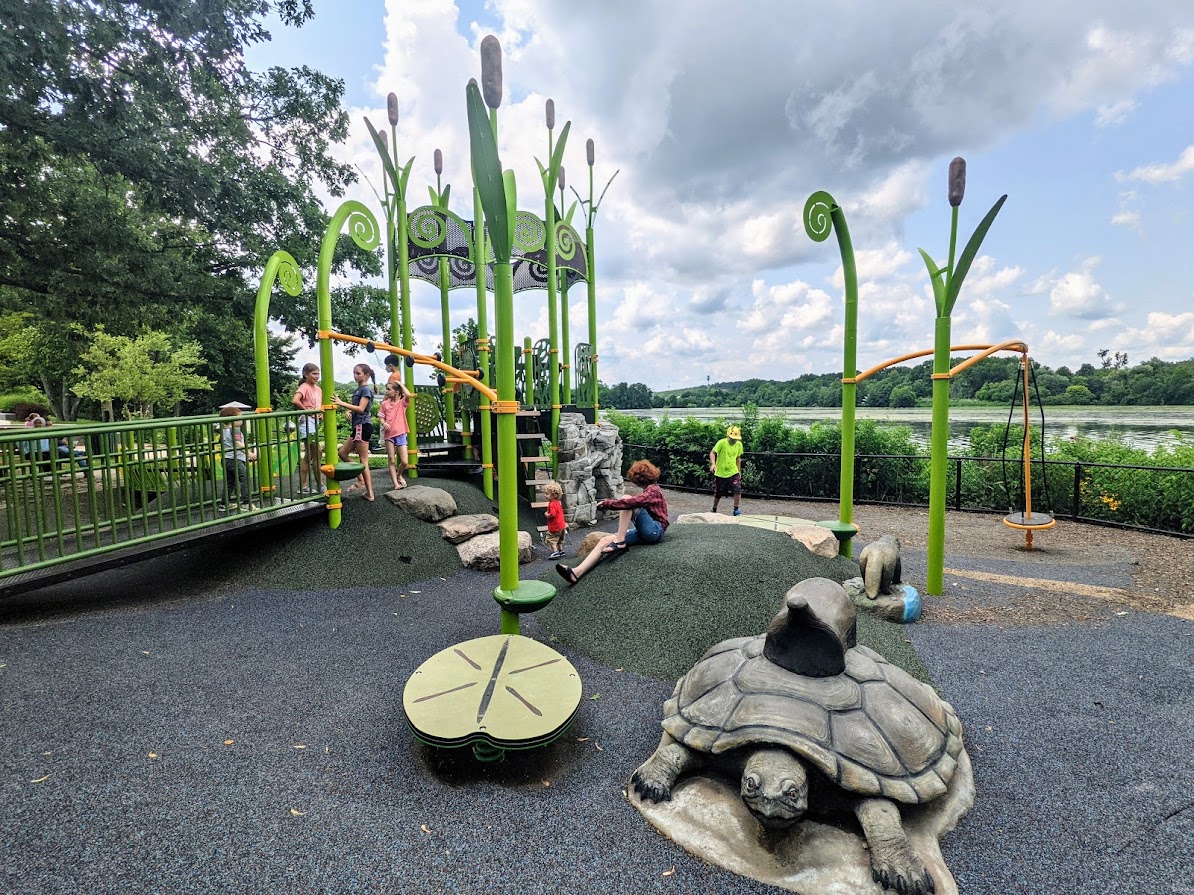 Why we love it: An Ann Arbor oasis, Gallup Park isn't easy to get to but very much worth the visit. The inclusive, nature themed playground is next to the river that kids can also wade in, fish along or simply watch the canoes.
---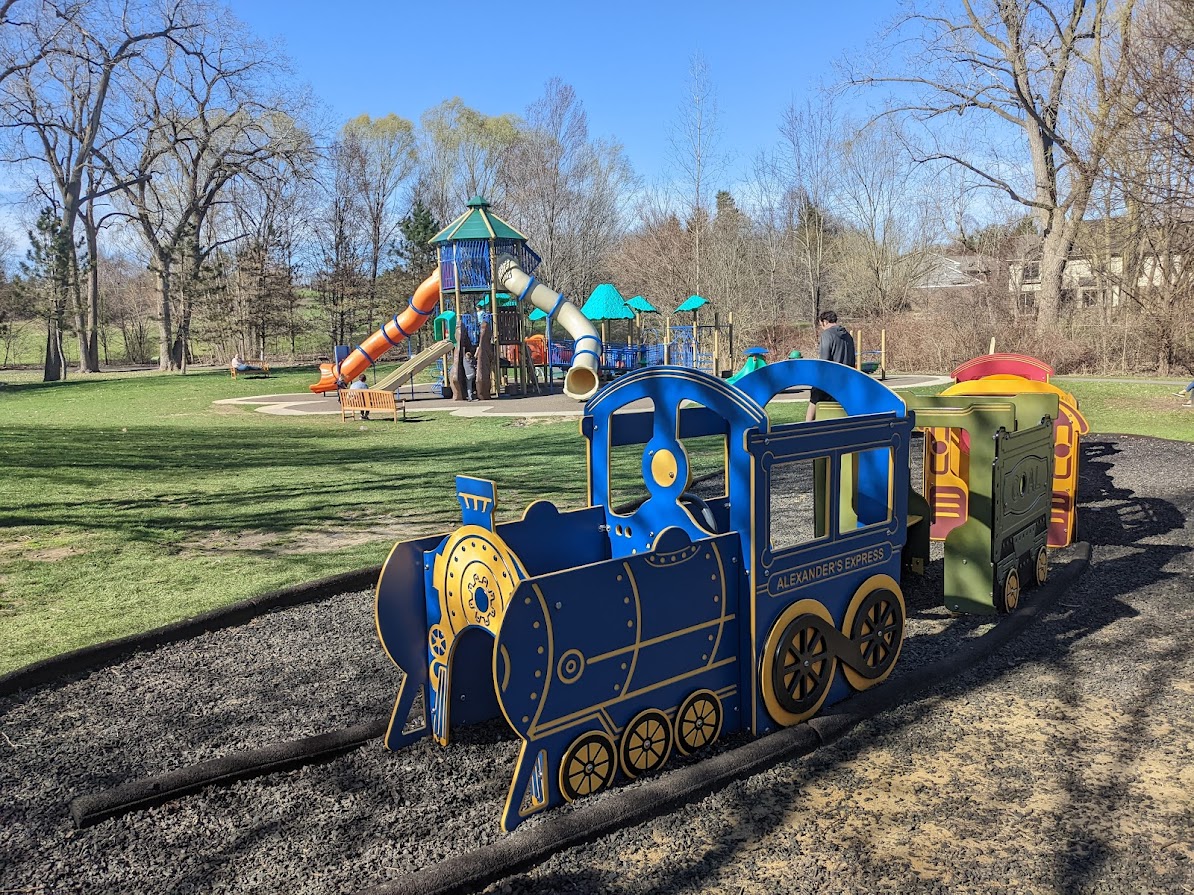 Why we love it: Plymouth Township Park aka McClumpha Park offers the perfect mix of old and new. The modern playset features a larger than life bear and stationary train. Take a short walk along the paved trail and you'll find a wooden kingdom with a castle, barn and pirate ship! During the summer months there is a also a free, open access splash pad.
---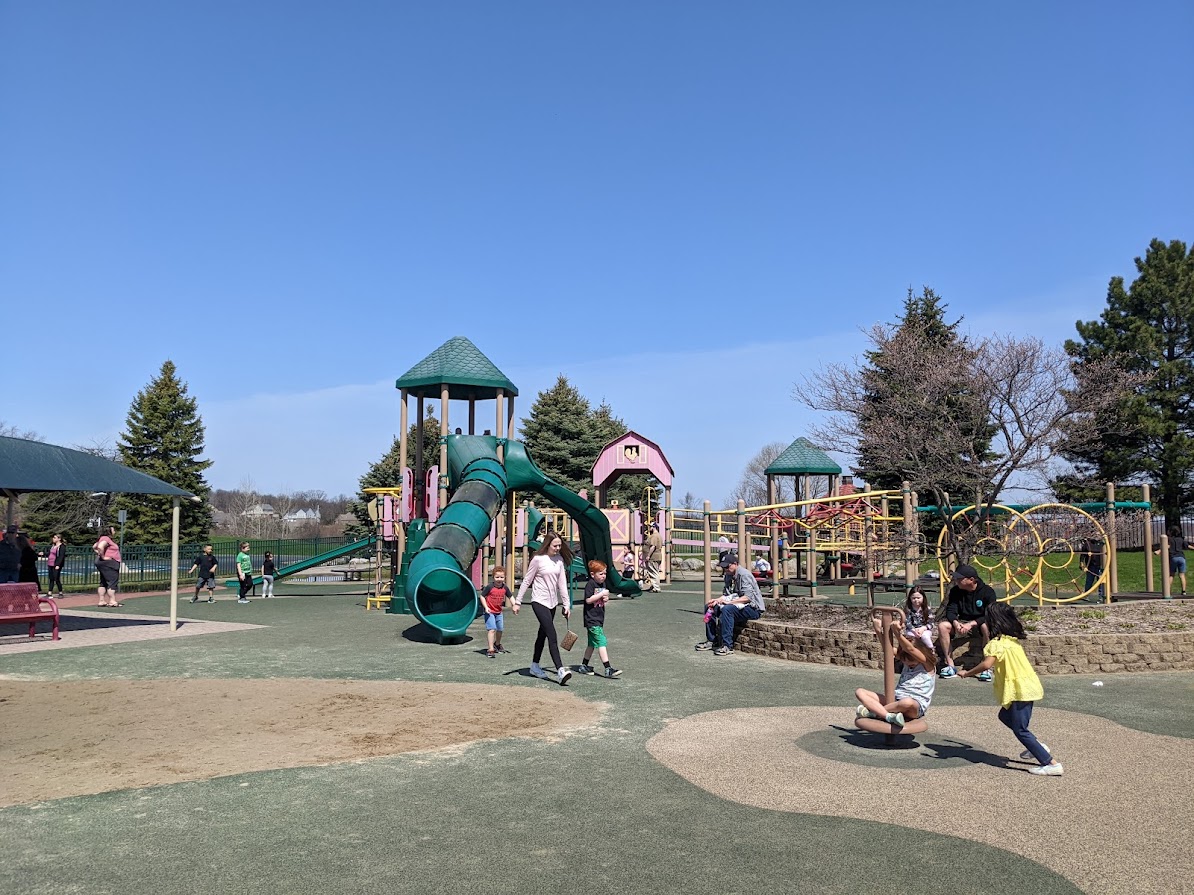 Why we love it: The barnyard themed playground is enclosed with shaded sitting area for parents to watch their kids climb, slide, swing, explore the maze and experiment with sand. Afterwards you can take a walk across the parking lot to the free and open access, petting farm.
---
Why we love it: The park features modern playground space for both toddlers and big kids. It's also next to the most kid-friendly beach that has a short sand line and clean shallow water that allows parents to relax. If you're up for a walk, you will find another playground at Pavillion Shore along the lake.
---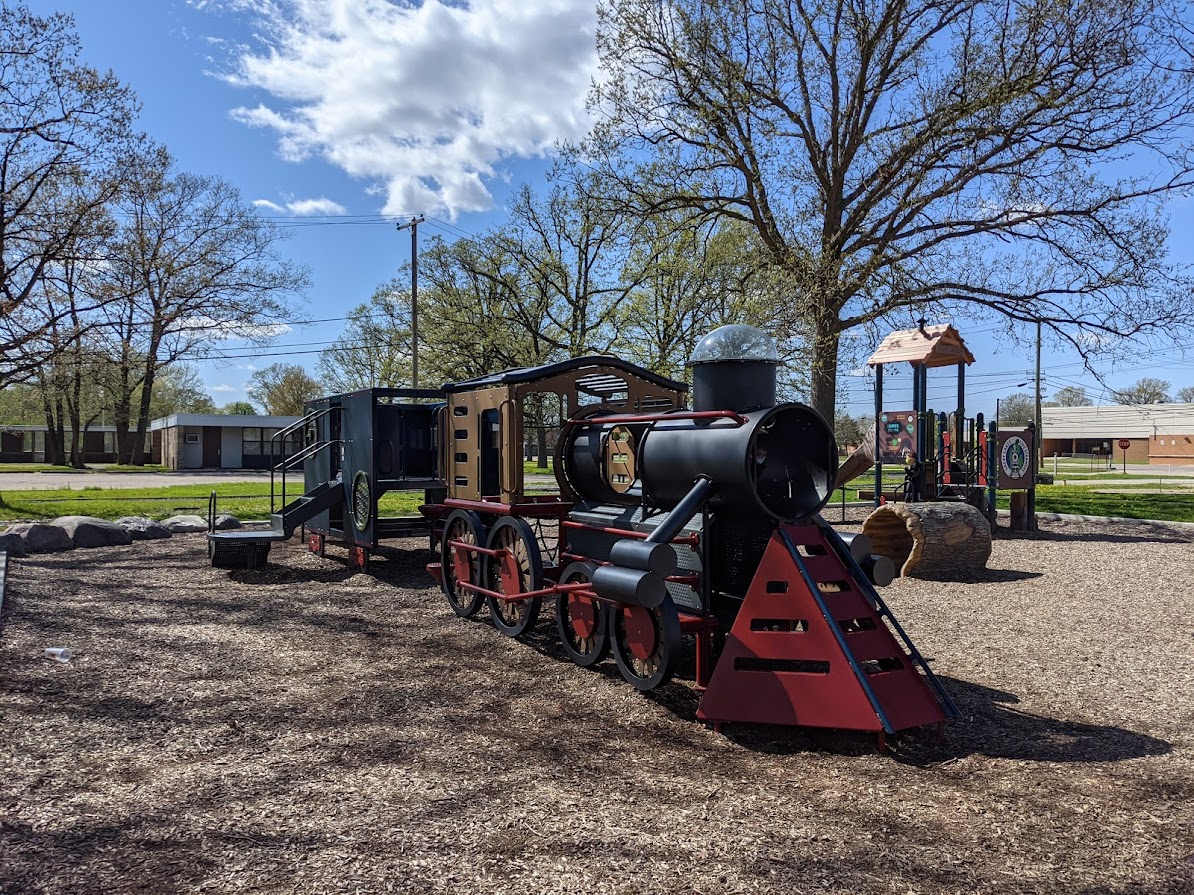 Why we love it: A train lovers dream, Kiwanis Park has a large, modern train playstructre and from May to October minature train rides one weekend a month thanks to the Great Lakes Live Steamers!
---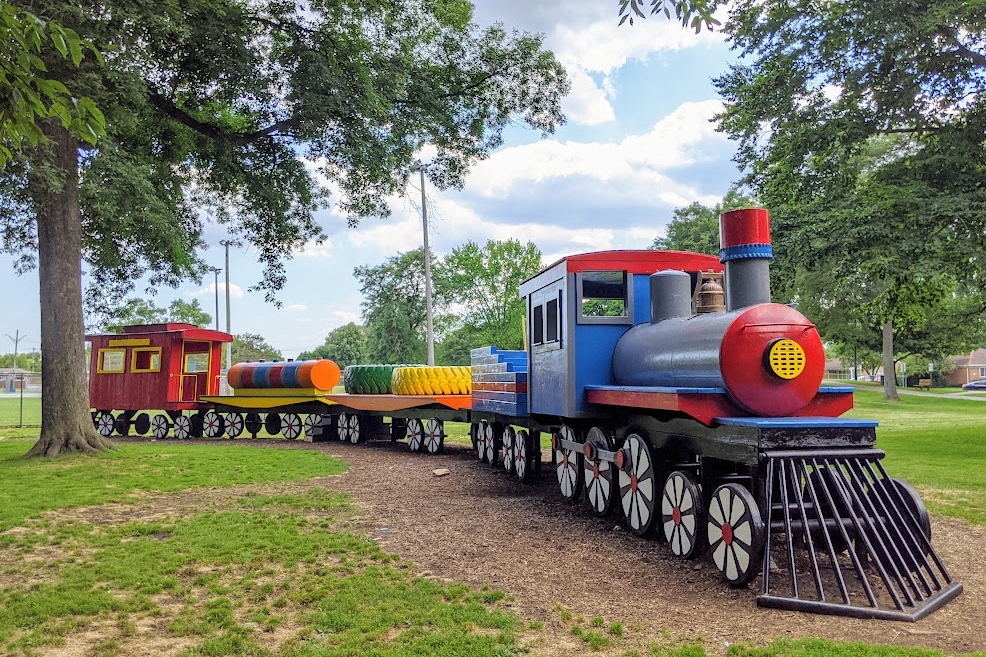 Why we love it: If you want a larger than life train ride that looks like it's straight out of a story book head to Oak Park. There's a giant truck too!
---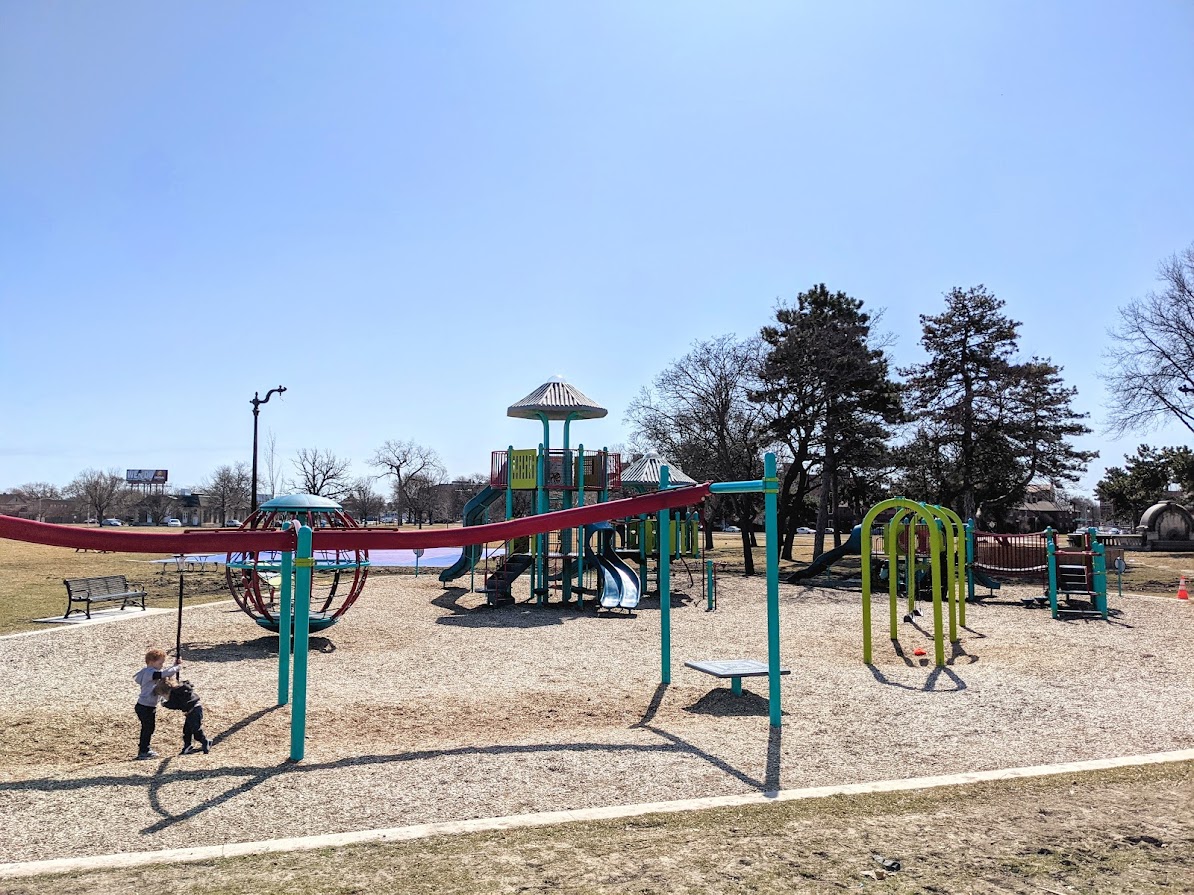 Why we love it: The historic park got a modern update wtih its playground and we LOVE it! Great for all ages and abilities, make sure you also visit the police riding stables, the historic Log Cabin and (during the summer months) the splash pad.
---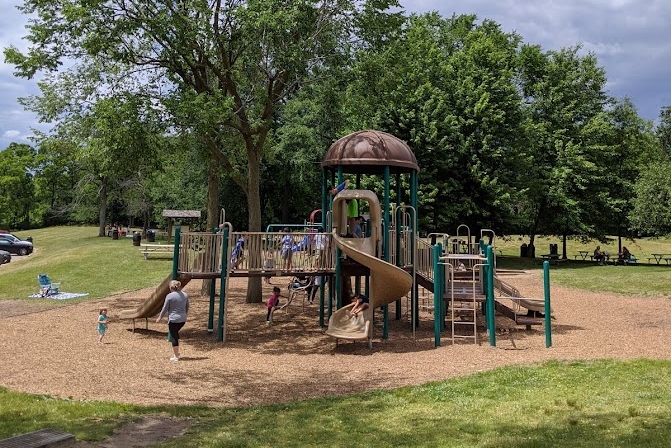 Why we love it: You go to Heritage Park for more than the playground, it's the Discovery Nature Trail that features multiple hands-on activities for kids (including stick forts), the free splash pad in the summer and awesome sledding hills in the winter.
---
Why we love it: A triple threat, Heritage Park has a modern play structure and a traditional wooden structure next to a free and open to the public splash pad. It's the perfect place to spend a summer day.
---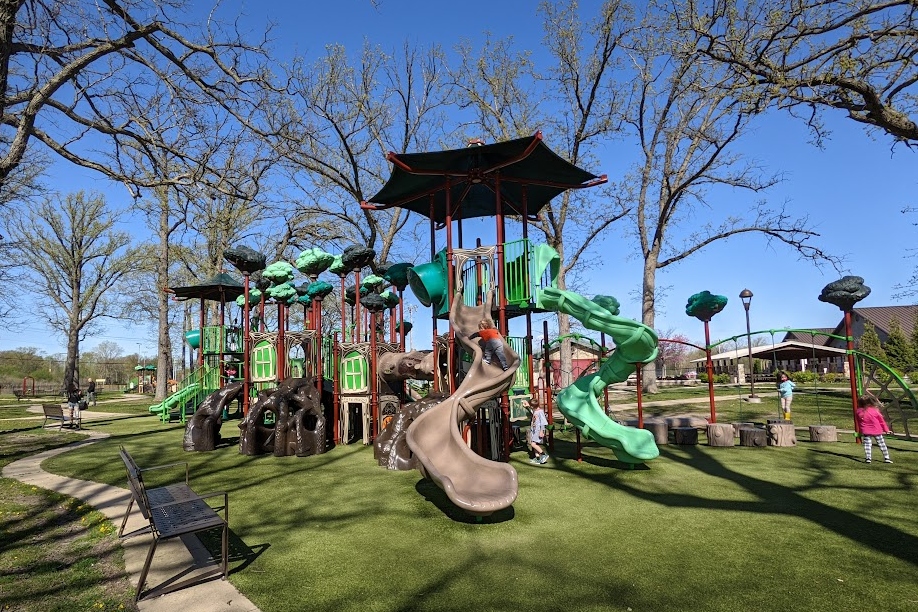 Why we love it: Thorn Park has something for everyone. An old school, minature town for littles to play pretend. Dedicated forest themed playgrounds for toddlers and big kids, a massive sand pit, swings and a splash pad!
---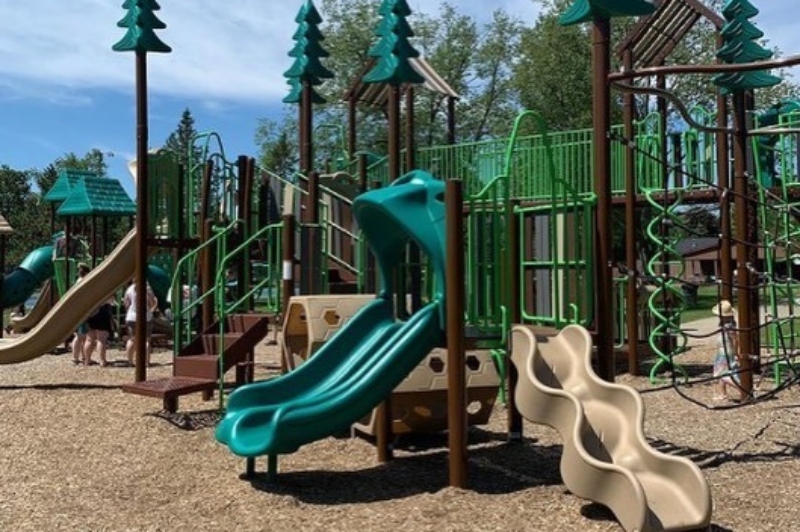 Why we love it: It's hard to resist a large modern playground that's next to a splash pad.
---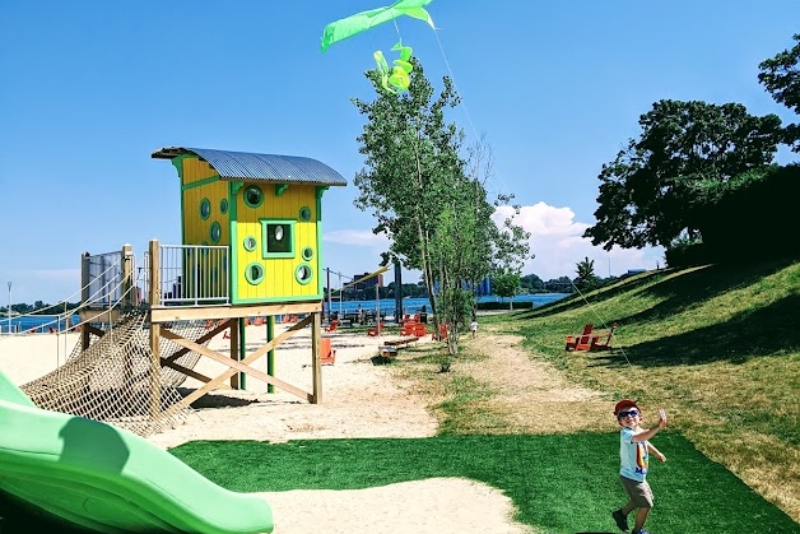 Why we love it: The best of both worlds, Valade Park gives you the city and the sand. One of the few major destinations along the Detroit Riverfront, Valade Park is one of our favorites for the unique playground, sand beach and year-round activations/activities.
---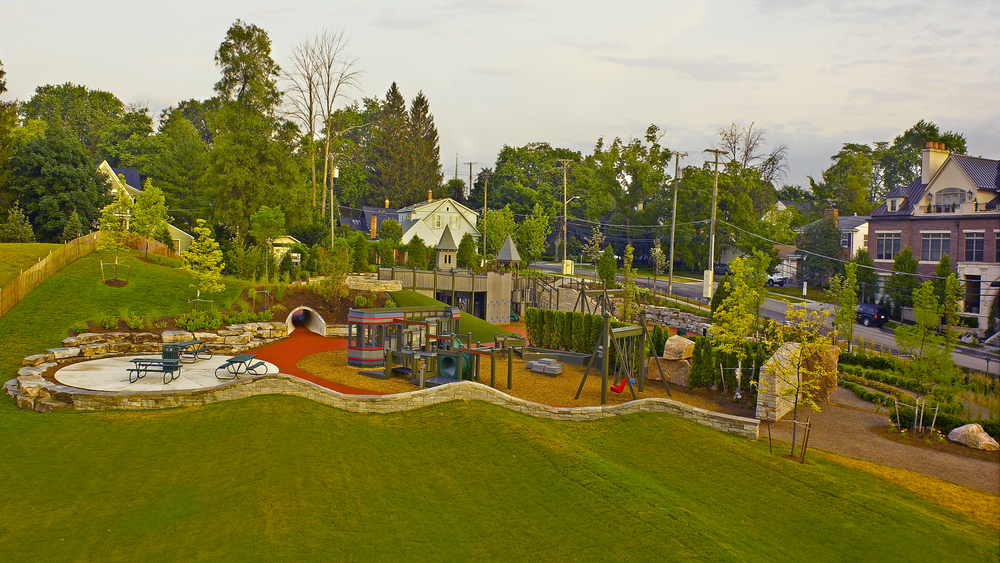 Why we love it: Located in downtown Birmingham, Booth Park has multiple special features that kids love including the rock maze, tunnel, trolly and box sledding hill (those frequent Amazon orders come in handy, bring your latest order's box with you for the littles to slide on).
---
Why we love it: Already an awesome massive playground that is accesible to all – including adults – is about to undergo a massive mult-million dollar upgrade. It's next to both a playground and a skate park.
---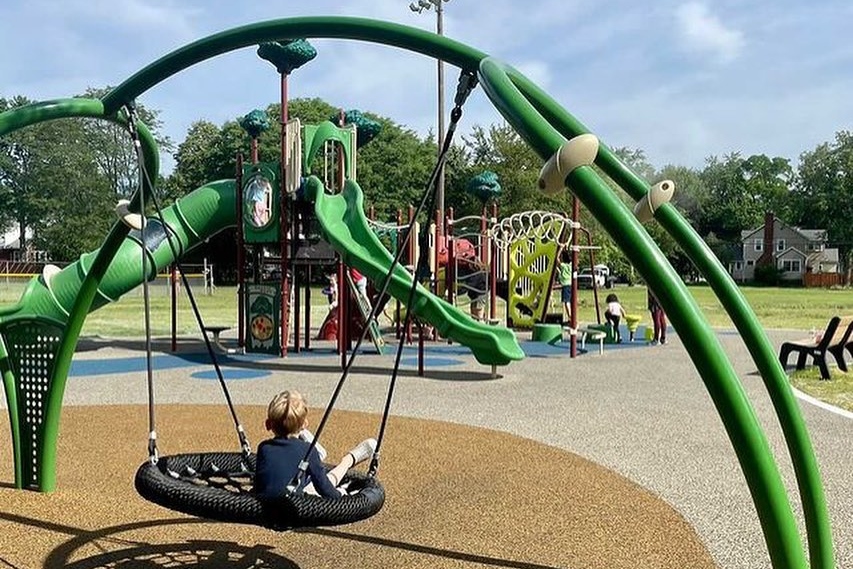 Why we love it: Oxford Park has a modern playground, free splash pad and public restrooms.
---
Why we love it: If you're looking for a fun a summer day go to Spencer Park for the beach, playground – including Gaga Pit – and watercraft rentals.
---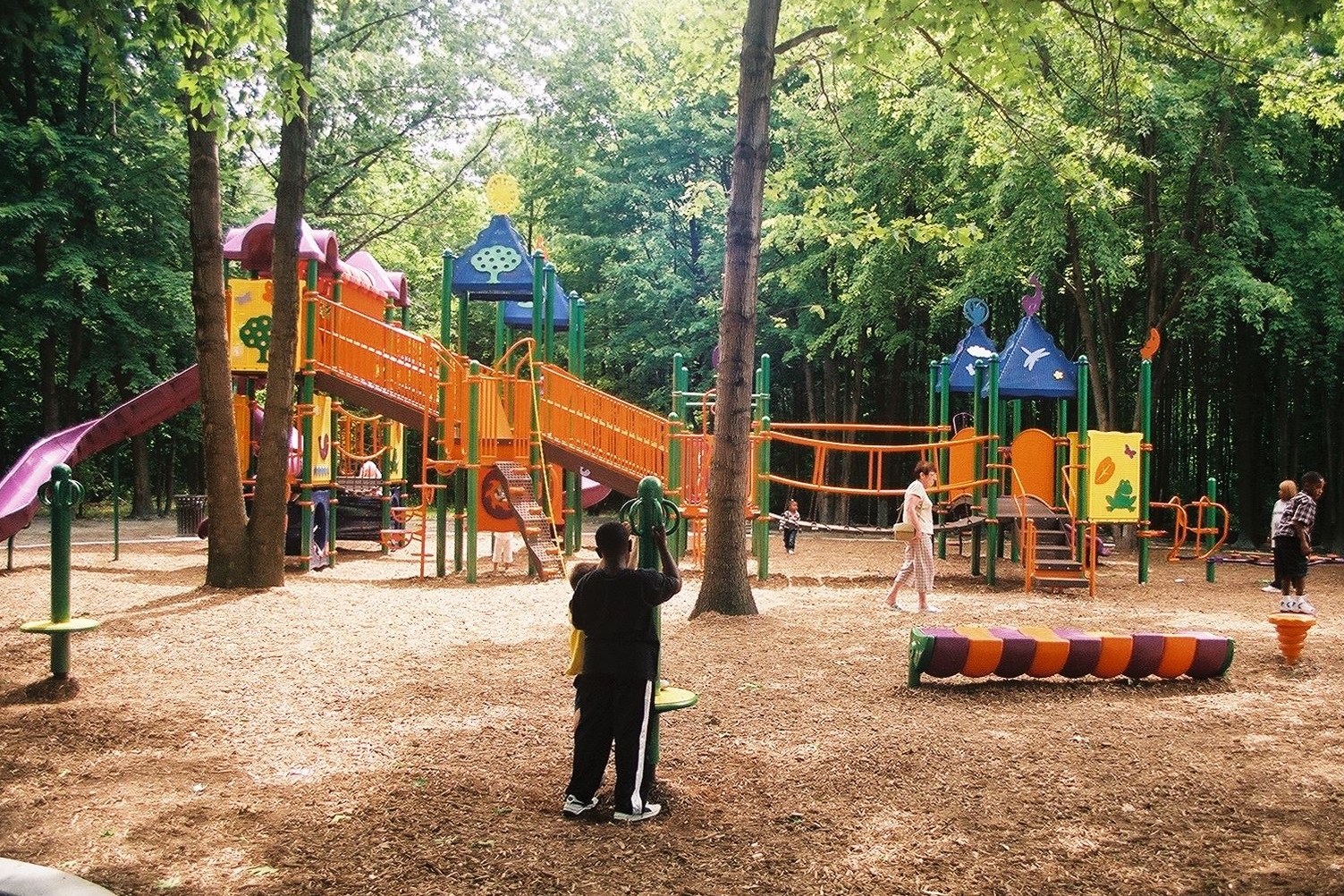 Why we love it: Bauervic Woods Park gives you the secluded woodsy feel with a large modern playset that's different than what you find most places. Search the nature trails for stick forts and if you have time go to our favorite non-traditional place to play, Carpenter Lake Nature Preserve aka The Rock Park.
---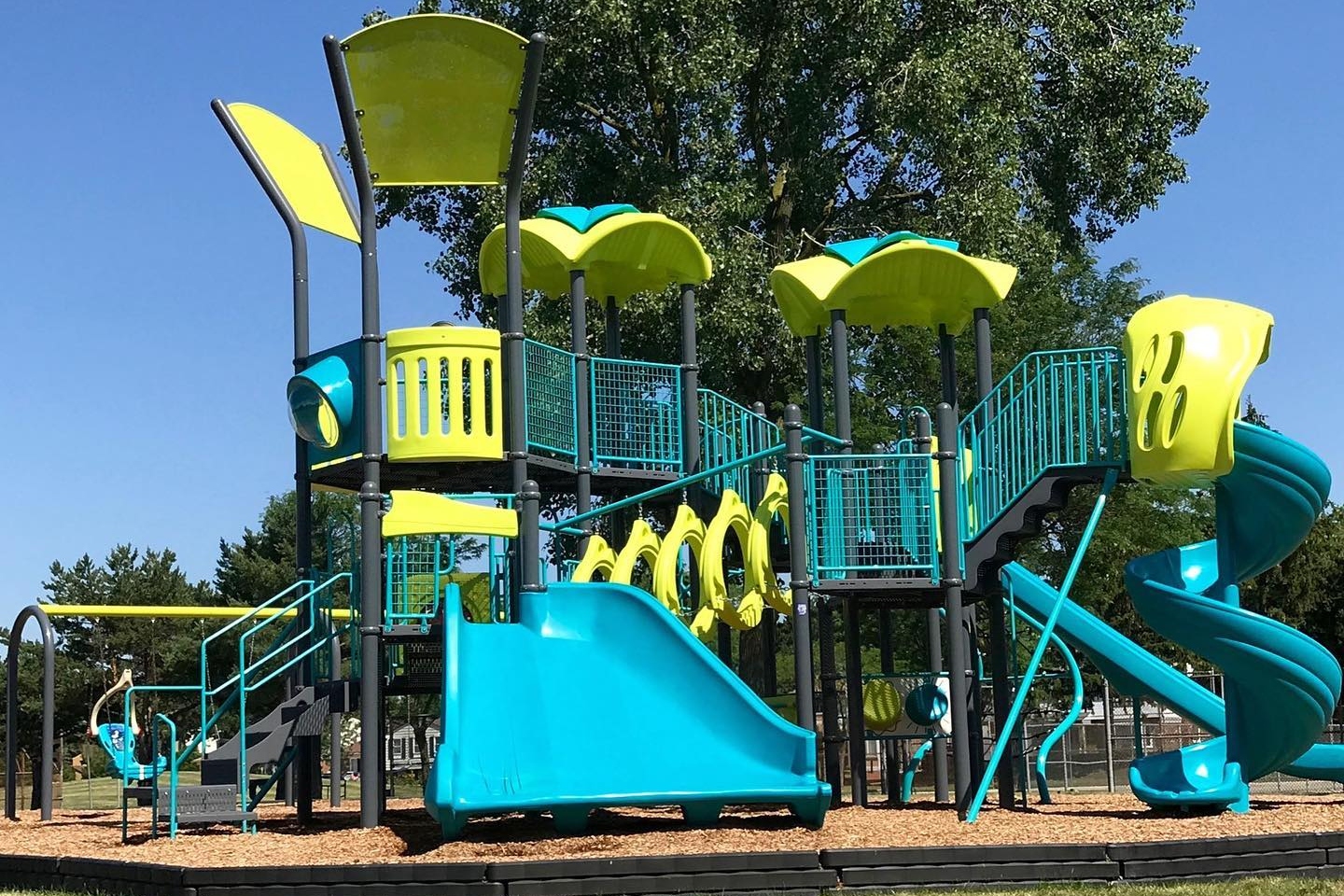 Why we love it: Dodge Prk has an awesome playground AND a super cool splash pad. Bring your bikes or boards and check out the skate park too.
---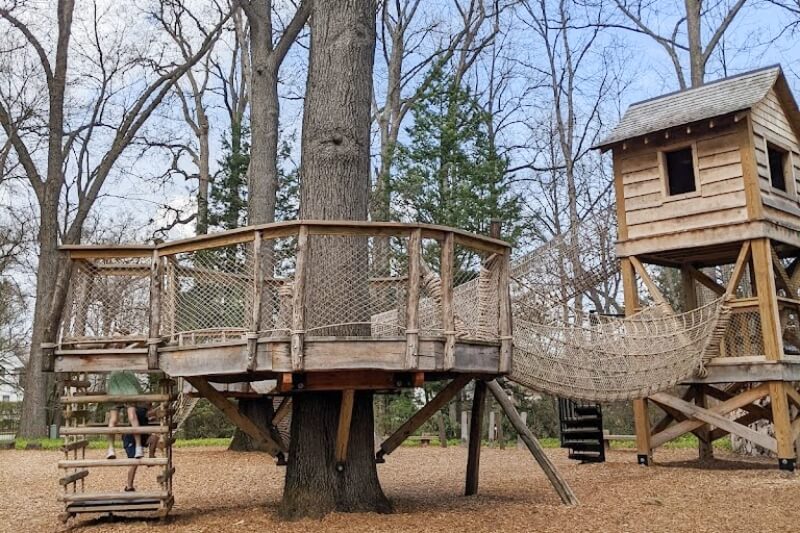 Why we love it: The Secret Forest for kids is worth the trip to Toledo. Kids will love climbing on the two story tree house and you will all love walking through the gardens and spoting large works of public art. Best of all it's FREE!
Photo credit: Normandy Oaks, Royal Oak