The Detroit Riverfront is one of our favorite places and it was once again named the BEST riverfront in America! No matter what time of year or the weather, it's always a good time to visit the Detroit Riverfront. Here are our favorite activities to do with our kids.
We love the Detroit Riverfront! It's the perfect place to take in the great outdoors within the downtown city center. Families can walk, stroll, bike (rentals are available!), sail or play along the riverfront. There are multiple public restrooms and free public parking lots located along the 5 ½ miles of Riverfront property, making it easy to spend an entire day exploring. There are lots of places to play but here are our top picks:
Cullen Plaza
Cullen Plaza is the heart of the Detroit Riverfront. Located next to the Renaissance Center you can feel the big city energy while relaxing next to the gentle waves in the river. Kids will love the Cullen Family Carousel, playground and Michigan DNR Outdoor Adventure Center. If you want to hit the water, get tickets for a tour on the Diamond Jack Riverboat.
Valade Park
You'll see us a lot at Valade Park. The park space features an expansive sandy beach, children's playground and waterside seating all times of the year. There's always something fun to do, from weekly seasonal festivals to regularly scheduled children's programs. Bring a sled or beach time (depending on the seaon) and have fun!
Mt. Elliot Park
Bring your kites and swim suits to Mt. Elliott Park in the summer to soak up the sun at the Great Lakes schooner-themed water feature with water cascades and "kid activated" water cannons, wind chimes and many other interactive features.
The Dequindre Cut
The Dequindre Cut is a two mile urban greenway connecting the Detroit Riverfront to Eastern Market. The below-street level greenway is perfect for walking, strolling or biking with kids because they can't run into the street or get to far away. Along the paved walkway you'll find selfie ready street art, interactive play space and the perfect spot for a picnic.
Centennial Park
The Detroit Riverfront is already the best in America and it's going to get infinitely better when the five-and-a-half mile Centennial Park is complete connecting the riverfront from Gabriel Richard Park to the Ambassador Bridge. The new space will have multiple attractive features but we're most excited for the five-acre playground Dental Dental donated $5 million dollars to build for Detroit families.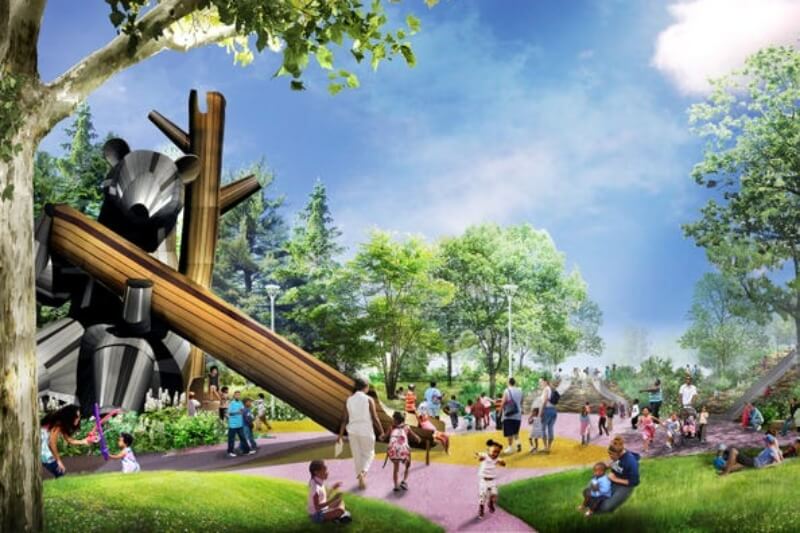 Photo: Mt. Elliott Splash Pad