If you follow us on social you have seen how much I love Michigan Fields . The new Detroit based delivery grocery service has made mealtime at home SO much easier and we want to make it easier for you too! Here's my meal plan for you to try this week.
---
My husband hates leftovers. He may eat the same meal twice but nothing more than that and even then only if he's desperate.
I hate food waste and spending too much time cooking so whenever there are leftovers I consider it a win and will eat the same meal for an entire week if needed.
Obviously, this creates a challenge at home. Thankfully, we've come up with an easy solution that really just requires a box of noodles. Most nights I can take the main portion of our meal and re-purpose it for something new the next day. No food waste, no 'leftovers'. Win-win.
My Order + Meals
Ground Turkey (Michigan Turkey Producers, Grand Rapids)
Bacon (Jake's Country Meats, Cassopolis)
Onions (Cinzori Farm, Ceresco)
Sweet corn (Rudich Farms, Ray)
Tomatoes + Potatoes (Middle Branch Farm, Marion)
Greens Mix (Garden Fort, South Lyon)
Peppers (Fusilier Farms, Manchester)
Eggs (Pristine Acres, Marion)
Yogurt (Fluffy Bottom Farms)
Guernsey Whole Milk + Lemonade (Northville)
Great Lakes Potato Chips
Zingerman's Bakehouse Rustic Round + All-Purpose Flour
Maple Syrup (Droscha Sugarbush. East Lansing)
West Michigan Smoothie Blend (Michigan Farm to Freezer)
Ground Turkey: Sloppy Joes + Chili Mac
Ground turkey is underrated. It's more affordable than beef, healthier too, and can be used in all the same ways! We have Sloppy Joes one night and chili mac the next. You can add the saucy meat from the night before to cooked noddles and cheese or make this Damn Delicious recipe.
---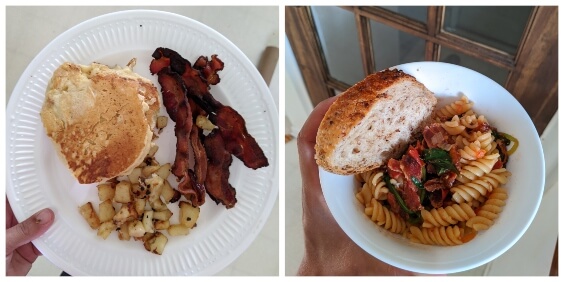 Bacon: 'Breakfast' + BLT Pasta
Breakfast for dinner is always a good idea – even my picky kids love fluffy pancakes! Use the bacon for a BLT pasta that's great served hot or cold.
---
Italian Sausage: Ballpark Style + Family Style
Turn on the grill and put sausages in a bun for dinner and chop up the leftovers and put it in marinara sauce for spaghetti the next night – I like to make my own sauce with garden fresh tomatoes.
---
Bonus – Frozen Fruit: Smoothies + Cocktails
Make breakfast smoothies for the family in the morning and make a grown-up smoothie after they've gone to bed! I blend frozen fruit with Guernsey vanilla and a red blend for a relaxing evening treat.
See why we love Michigan Fields and get $20 off your first order with the promo code LittleGuide at checkout.
SHARE THIS:
About Carrie Budzinski