National Fire Prevention Week is October 9th – 15th and across the country fire stations are opening their doors to let families see their equipment and learn about fire safety. Let your littles see their favorite trucks and learn how to be safe in case of an emergency at these fire station events around town.
It's not something we want to think about but should we ever need the emergency burn care, we want to know where to go. The Burn Center at the Children's Hospital of Michigan is the only verified burn center that is dedicated to pediatrics in Michigan. From innovative procedures for patients with full-thickness burns over more than 50 percent of their bodies to specialized care and rehabilitation therapy for children with severe burns to their hands and joints, the Burn Center provides comprehensive care for every burn injury.
Check out this Fire Safety in Your New Home: Safety Checklist For the Family featuring printable activity pages and helpful hacks for home, then head to a local event.
Saturday, October 1 / 9:30 a.m. to 12:00 p.m.
@ Berkley Parks and Recreation 
Explore a variety of trucks, vehicles and equipment with Berkley Parks & Recreation, Public Safety, and the Department of Public Works. FREE & FUN for all ages! 2400 Robina Ave, Berkley, MI 48072
MILFORD FIRE STATION OPEN HOUSE
Sunday, October 2 / 11:00 a.m. to 2:00 p.m.
@ Milford Fire Station
The Milford Fire Department is hosting our annual Open House on Sunday October 2nd from 11am-2pm. Come meet your Milford Firefighters and see all of the trucks and gear. Fun for kids of all ages with games and prizes. There will also be a Vehicle Extrication Demo! Cider, donuts, hot dogs, and popcorn provided. 325 W Huron St, Milford, MI 48381
FARMINGTON HILLS CITY WIDE OPEN HOUSE
Saturday, October 8 / 12:00 p.m. to 3:00 p.m.
@ City Hall Campus
Here you will find fun for the whole family! Bounce houses, fire safety house, food truck rally, kids crafts, fun games, jail cell tours, K9 demos, fire escape ladder, touch-a-truck, firefighter obstacle course and so much more! 31555 W. Eleven Mile Rd Farmington Hills
*Rain Date October 9th*
PLYMOUTH FIRE SAFETY OPEN HOUSE
Saturday, October 8 / 10:00 a.m. to 2:00 p.m.
@ Plymouth Fire Station No. 1
We are excited to be able to provide the community with the annual Fire Safety Open House. Come meet your Firefighter/Paramedics and learn about what we do every day. It's fun for the entire family! The event will include: Jaws of Life Demonstration, Fire Truck & Ambulance Tours, Stove Fire Demonstration, Squirt House, Fire Safety Feature Display, Fire Extinguisher Demonstration, Sparky, Survival Flight Landing. Don't forget about the Charity Pumpkin Patch! 9911 N Haggerty Rd, Plymouth, MI 48170
STERLING HEIGHTS FIRE DEPT. OPEN HOUSE
Sunday, October 9 / 11:00 a.m. to 2:00 p.m.
@ Sterling Heights Station #4
Sterling Heights Fire Department will host the annual Open House on Sunday, Oct. 9 from 11 a.m. – 2 p.m. in honor of Fire Prevention Week! From playing in the fire trucks to filling up on cider and donuts to interacting with the firefighters, it is about to be the perfect Sunday fun-day! Where: Station No. 4 (12850 15 Mile Rd) *Free parking available at Sterling Heights High School.
Sunday, October 9 / 12:00 p.m. to 3:00 p.m.
@ Hamtramck Fire Department
On Sunday, October 9, 2022, to kick off Fire Prevention week, the Hamtramck Fire Department will be hosting an Open House at the station from Noon until 3 PM. We invite you to attend and learn about fire prevention and see what the Fire Department is all about. There will be refreshments and activities for the kids. We will also be doing demonstrations using fire extinguishers, hose lines, extrication equipment and setting up our ladder truck. We hope to see you there! 2625 Caniff St, Hamtramck, MI 48212
HOWELL FIRE DEPARTMENT OPEN HOUSE
Sunday, October 9 / 1:00 p.m. to 4:00 p.m.
@ Howell Fire Department
Come and check out your local fire department! A lot of activities will be going on that you won't want to miss! From flowing water out of an actual firehouse with firefighters to meeting Freddie the fire truck, there's something for everybody to do. We hope to see you there, everybody is welcome! 1211 W Grand River Ave, Howell, MI 48843
Sunday, October 9 / 2:00 p.m. to 3:00 p.m.
@ Sidetrax Stables
This will be a short but Helpful event. Mike Harper, a former fire chief, is going to cover home fire safety. Don't miss this event! 47621 Hull Rd Belleville, MI 48111
WAYNE FIRE DEPARTMENT PANCAKE BREAKFAST
Saturday, October 15 / 9:00 a.m. to 12:00 p.m.
@ Wayne Fire Department
Annual City of Wayne Fire Department Pancake Breakfast Saturday October 15th. $8 all u can you eat Pancakes, (3) Sausage links and milk juice coffee. Raffles + Crafts for the kids. Meet your local heroes! All proceeds raised will benefit The Fire Prevention Public Education fund. This fund is used for fire prevention week each year which teaches safety to the children and our community about the speed and power of fire, how quickly and safely to escape a house fire, and more. 3300 S. Wayne Road, Wayne, MI,
Saturday, October 15 / 10:00 a.m. to 1:00 p.m.
@ Livonia Fire Station #3 
The Livonia Fire Department invites families for hands-on activities and live demonstrations. Meet your local fire fighters and show kids how their local heroes keep them safe. 35000 Seven Mile Rd
SHELBY  TOWNSHIP FIRE STATION OPEN HOUSE
Saturday, October 15 / 10:00 a.m. to 2:00 p.m.
@ Shelby Township Fire Station
The annual event features family-friendly educational demonstrations, a dunk tank to benefit the Great Lakes Burn Camp, and fire station and apparatus tours. Also on hand will be Sparky the Fire Dog as he helps youngsters through this year's fire prevention theme, "Fire won't wait. Plan your escape." 6345 23 Mile Road
MADISON HEIGHTS FIRE PREVENTION OPEN HOUSE
Saturday, October 15 / 10:00 a.m. to 2:00 p.m.
@ Madison Heights Fire Department
Join us for the 2022 fire prevention open house. Enjoy equipment demos, truck and station tours and light refreshments with activities for the whole family while learning fire safety and prevention. Located at fire station 1. 31313 Brush St, Madison Heights Mi, 
Saturday, October 15 / 10:00 a.m. to 2:00 p.m.
@ Brighton Area Fire Authority
Our event has something for everyone, so come join us for a cotton candy treat, learn about fire safety and watch live demonstrations! Also enter to win a fire truck ride and prize basket by participating in some fun interactive fire safety stations! Sign-up for smoke alarm checks and installations too! Don't miss out on the most awesome open house around!  615 W. Grand River, Brighton, MI
Saturday, October 15 / 11:00 a.m. to 2:00 p.m.
@ Royal Oak Fire Station #1
SAVE THE DATE! Royal Oak Fire Fighters will host their annual open house on Oct. 15 from 11a-2p at Fire Station #1, 215 E Sixth St. Doughnuts, bounce house, demos, goody bags, and much more. You won't want to miss it!
SUMPTER TOWNSHIP FIRE DEPARTMENT OPEN HOUSE
Saturday, October 15 / 12:00 p.m. to 2:00 p.m.
@Sumpter Twp Fire Department
Please join us for the Sumpter Township Fire Department 4th Annual Open House – Come by and meet your firefighters, tour the station, check out the fire trucks, score some FD bling, learn a few safety tips, and have some fun. 20550 Sumpter Rd. Belleville, MI 48111
Sunday, October 16 / 11:00 a.m. to 2:00 p.m,
@ Rochester Fire Department 
Come on down for a day of tours and fun. Meet some of your local firefighters and see our trucks. 277 East Second Street, Rochester, MI
---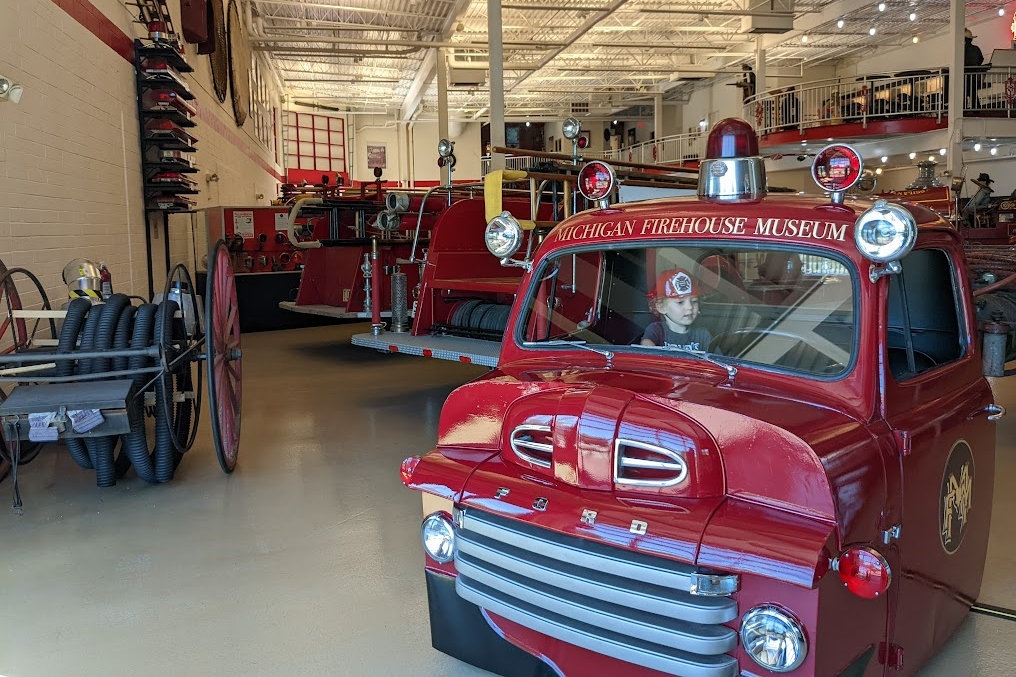 BONUS: Visit the Michigan Firehouse Museum
Open Thursdays thru Sunday
110 W. Cross St., Ypsilanti, MI 48197
The Michigan Firehouse Museum is a three level, hands-on museum for firetruck admirers of all ages. On the ground floor guests can hop on a vintage truck and admire many more. Both kids and adults can sit in the body of a firetruck and use lights and sirens while pretending to drive. On the second floor you'll find fire prevention memorbilia, vintage firetruck toys, a short video and explore the living quarters of the former fire station. In the basement, there is a children's play area with puzzles, books, dress up clothes and a Bert & Ernie ride.
Photo credit: Source