We all know being a mom is a full-time job and being an entrepreneur AND a mom is a feat few accomplish. We asked some local MomBosses to share the secrets to their success.
Jess Sanchez McClary, CEO/Founder – McClary Bros. Drinking Vinegars
Mom to Jack + Ben (7) and Roxie (8 months)
I started my business when my twin boys were 2-years-old. It was a challenge, but it was manageable. I had to be very organized with my time and tasks, using tools like Evernote, Asana, Google Calendar, etc. to maximize the time that I had for the business. As the boys got older, that balance got easier…and then the whole process started over again with the birth of my daughter this past summer. Taking time off when you're so critically important to your business is very challenging. I couldn't have done any of this alone, I needed the support of my sons (helping with their baby sister) and my husband. You can start your business on your own, but you will need the help of others as you grow. You can't expect to be able to do it all yourself and don't beat yourself up when you can't.
Mary Buchzeiger, Chief Executive Officer – Lucerne International Inc
Mom to Ryan (12),  Shane (9) and Cody (7)
I'll be honest, I have it made. If I didn't have my husband, I couldn't do what I do – he gave up his job to dedicate his life to raising our children.  I get to wake up every day, chase my dreams of growing an international business and know that I don't have to worry about anything.  Being a business owner and a woman, I believe that this makes me more understanding and sympathetic to my employees when something comes up with their kids that may interfere with work.  My staff knows that if there's a performance at school or a field trip, I am 100% supportive of them attending these things.  I think that the value of family is underscored in society today and I feel it's important to support my employees in maintaining that healthy work/life balance.
Shirel Jones, Founder – Lil Dumplins
Mom to Saige (6) and Pierce (2)

The most important lesson learned is, try as I might, I really can only do one thing at a time. I have learned being a mom, business owner, friend or teacher cannot all be done in the same moment, but when I do have to focus on a role- it must be done wholeheartedly. Instead of spending the time that I am with my kids thinking of my work and vice-versa, I have learned how impactful staying present in the moment can be. I have yet to master this but when I do practice being present, I find that my day feels far fuller, productive and meaningful.
Corina Baldwin, Founder – Little High Flyers
Mom of 2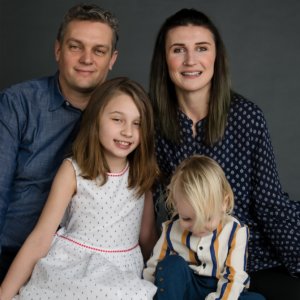 I always found it hard being a mom and continuing with my career. I had a time when I devoted myself to work 12 hour days but I was faced with the problem – "How do I do it all?!" After two kids I knew the answer for me was flexibility. Opening a business means working around the clock but I know that I can have my kids with me, I know I am working for my family, and I can "do it all" in my own version. What I have learned is that it also takes a village. I am working on getting better at asking for help. I think that as a mother and business owner we tend to always be ON, but if there is one thing that my professional background thought me is that I need to take self-care breaks and I try to remind myself of that every day.
Brooke Miller, Founder – Honey
Gisele Eden (5.5) and Pearl Soleil (3)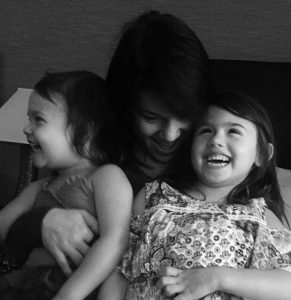 When people ask me about being a working mom, I share with them this: I don't work because I have some assumed notion that if my daughters somehow see me working my ass off outside the home, they will be better people who will then, work their asses off. If I stayed home full time, I would be working just as hard. So it's not about hard work. It's about passion. What I want is for my daughters to see me doing what I love. I want them to see their mom following her gut and her heart and doing something that not only matters—something that matters to me. It's not about work, it's about choosing to spend your time on what makes your heart sing and your soul grow. That's the example I want to be for my girls.
Do you have your own lessons learned or parenting trick you'd like to share? Send us your story to info@littleguidedetroit.com for a chance to be featured in a future article.
Photo credit: Positively Oakes
SHARE THIS: